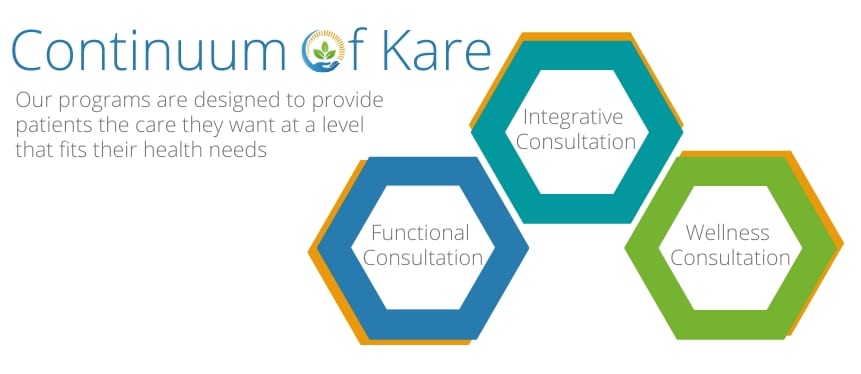 Our Integrative Wellness program is for patients who want to establish and maintain healthy habits, avoid prescription medications, prevent chronic illness, or have been struggling to find a provider who sees them as more than a number.
Our primary care wellness consultations take the time needed to do a full evaluation of your past, present and future goals. We work with you to create a wellness plan that fits your needs. Our goal is to give you options that work for you!
We truly see our patients on a continuum. Patients who are needing more time and more advanced diagnostic testing to investigate problems such as chronic inflammation, adrenal issues, fatigue, and hormonal imbalances are considered more complex and are better fit for our Functional Consultations or Integrative Consultations. Then once these things are addressed and positive progress has been made, we can continue our journey in our "Integrative Wellness" program. 
When working towards optimization, we must use a whole-body appraoch. Our Wellness program is designed to help you stay on track with your health and wellness goals while simultaneously identifying ways to improve your health and reach optimization.
This process does not happen overnight. As your Functional Medicine provider, we want to part of your story and journey with you as your story develops. Our Wellness Program puts you back in the driver seat, while we can provide periodic recommendations when needed or acute care as an alternative to conventional routes.
"My integrative approach to wellness is a patient-centered way of addressing physical, nutritional and emotional needs with the goal of achieving wellness as a lifestyle!"
Katelynne Haun, RN, MSN, FNP-C 
Instead of letting conventional protocols drive our interpretations and assessments, we view each patients as a unique individual. We understand that healthcare should NOT be a revolving door driven by insurance requirements or prescription medication refills.
We want to empower YOU to be in control of your health and truly live a life of wellness instead of insurance companies dictating what your healthcare partner can and cannot do for you.
Due to our desire to break free from the crippling constraints of insurance regulations, we are considered out-of-network with all insurance companies (including Medicare and Medicaid). Some insurance carriers may cover some laboratory tests recommended. We can provide a detailed receipt with coding for medical appointments and diagnostics services performed for you to submit to your insurance carrier directly.
Ready To

Change

Your Health? We Can Help!
Please take a moment to complete this form.
One of our New Patient Coordinators will connect with you within 24-48 business hours.
You can also call us at 417-881-4994 to request information. If you have questions or would like more information, you can reach out New Patient team at hope4health@kare-health.com
Start Your Functional Medicine Journey Today 
"*" indicates required fields