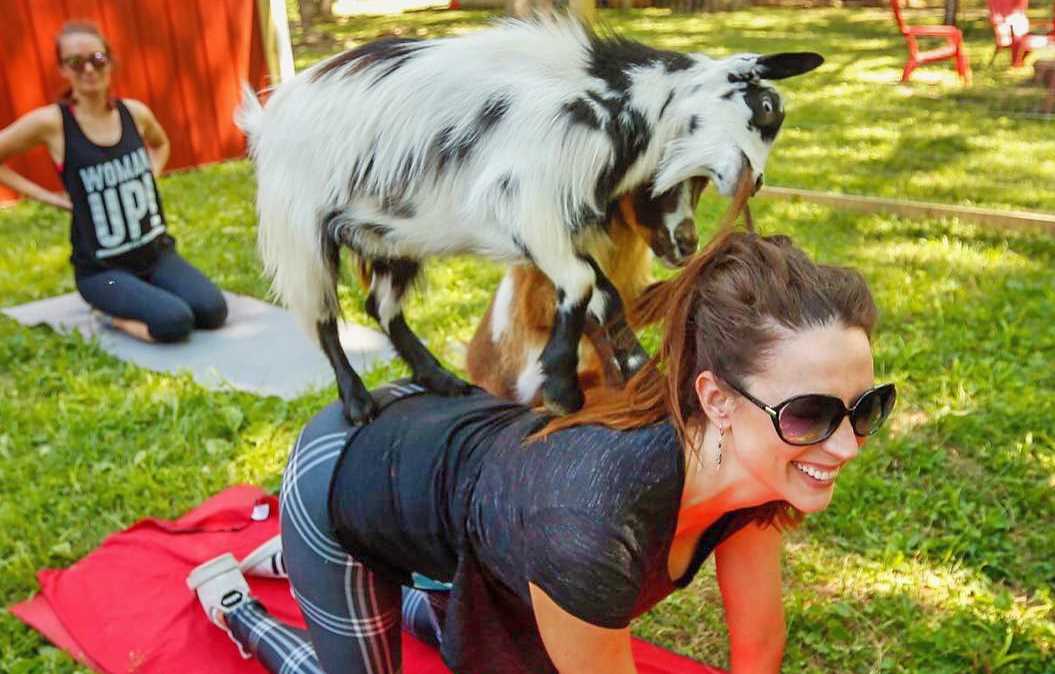 Fitness trends come and go, and time will tell if the latest craze is here to stay: goat yoga. That's right, yoga sessions with goats. Goat yoga started taking the US by storm in 2016, and it has become a popular exercise here in Springfield, MO. You can find this special treat occasionally at pop-up events in Springfield, but you can always find it at Goats and Yoga in Rogersville, MO.
Lainey Morse, one of the first to introduce goat yoga to the world in 2016 at her farm in Albany, Oregon, says "it's impossible to be sad and depressed when you have goats around you." Since then, goat yoga has spread around the country, with a number of celebrities testing it out and spreading the word on social media. Writing for Viva Glam Magazine, actress-writer Malorie Mackey writes about her goat yoga experience:
"As the goats enter, giggles and happiness ensue. Roscoe enjoys jumping and climbing on people while Floyd enjoys walking under them. Together, they move around the class jumping on yogis and having fun under the supervision of Michelle. Perhaps it isn't the most calm, meditative yoga class, but it breaks up the norm and adds lighthearted fun to your yoga routine."
Yoga has been around for about 5,000 years, and while many regard it as just another form of exercise, it's really a comprehensive lifestyle practice that integrates mental, physical, and spiritual elements. With that being said, yoga can be viewed as a form of meditation that demands your full attention as you move from one asana (yoga position) to another. As you learn new ways of moving and responding to your body and mind, other areas of your lifestyle tend to shift and change as well. In a sense, you not only become more physically flexible, but your mind and approach to life may also gain such much-needed flexibility.
A report by the Institute of Science in Society details how meditative practices such as yoga can actually alter your genetic expression through their impact on your mind. Thousands of genes have been identified that appear to be directly influenced by your subjective mental state. Examples of genetic effects obtained through yogic- and other meditative practices include the down-regulation of cellular stress response genes and genes associated with the pathway responsible for the breakdown of proteins, while expression of heat shock proteins and immune function are increased. One study investigating genetic changes triggered by the relaxation response determined that meditative or mindfulness practices affect no less than 2,209 different genes.
It's no wonder then that studies have found a variety of health benefits from regular yoga practice. This includes examples such as improved immune function, reduced food cravings, reduced risk for migraines, improved hearing health (including improved atrial fibrillation), improved cognitive function, reduced anxiety, depression, aggression, and stress, better sleep, and lower resting blood pressure. These benefits provide holistic healing and improved health and wellness that we find so important at Kare Health & Wellness.
There are many types of yoga such as Hatha yoga, Ashtanga yoga, prenatal yoga, hot yoga, and goat yoga. We will see if the unorthodox, giggle-filled, exciting, and possibly smelly version of yoga is just a trend or if it's here to stay. Whether you choose a class with animals or not, give yoga a try. Experience some of its benefits for an energy boost in Springfield Missouri.